Published on 25 May, 2023
Upgrade to Balmoral Oval will commence on June 01, closing the oval for 6 months.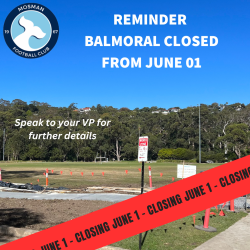 Training field allocations have been rearranged, but please speak to your team manager or VP if you are not sure where your training will be held.
For those of you that have had training slots re-arranged, thank you for your cooperation and those of you utilising the temporary facilities at Clifton Garden please tread lightly – respect the neighbours, car share if you can and leave the grounds in a tidy state.
Categorised in: Club Updates