How do I register for Summer 5-a-Side?
You must form a team prior to registering. Both TEAM registration and individual PLAYER registration is required.
TEAM Registration
To register a team, the online Summer 5-a-Side – Team Nomination form MUST be completed by your manager (or on behalf of the manager).
T-Shirts Shorts and Socks
T-shirts are included in the registration fee but players need to select their size during the registration process.
T shirt sizes and measurements can be found here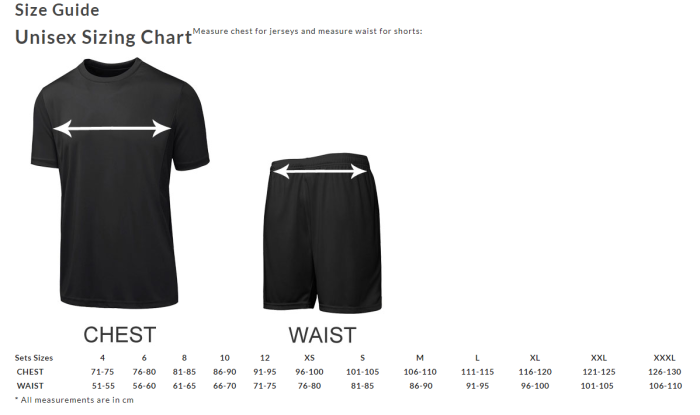 PLAYER Registration
The Mosman FC Summer 5-a-Side competition is structured to encourage players to form their own teams.
Players who do not have a team should not register but instead contact the competition administrator mosman5aside@gmail.com with the following details:
Name
Gender
DOB
Contact information
We will do our best to find you a suitable team and will contact you if we are successful requesting you complete the individual registration at that point.
Players with a team should register at PlayFootball and follow the prompts only after the competition administrator has notified team manager of approval.
Before registering, you need a photo, active kids voucher, Player Portal
Click on "Start my Registration" on Playfootball.com
On the welcome page click "Get Started"
Click on "I already have a Football Account" or If You did not play 2023 you must first create an account here
Then sign in using the same email address and Password you used to register for the winter comp 2023.
Follow the prompts and select the desired age group product
If you intend on using your Active Kids voucher please enter details prior to making payment.
Make the payment online - PLEASE NOTE THAT PAYMENTS ARE MADE THROUGH THE SECURE EXTERNAL PLAYFOOTBALL SITE, not through our website.